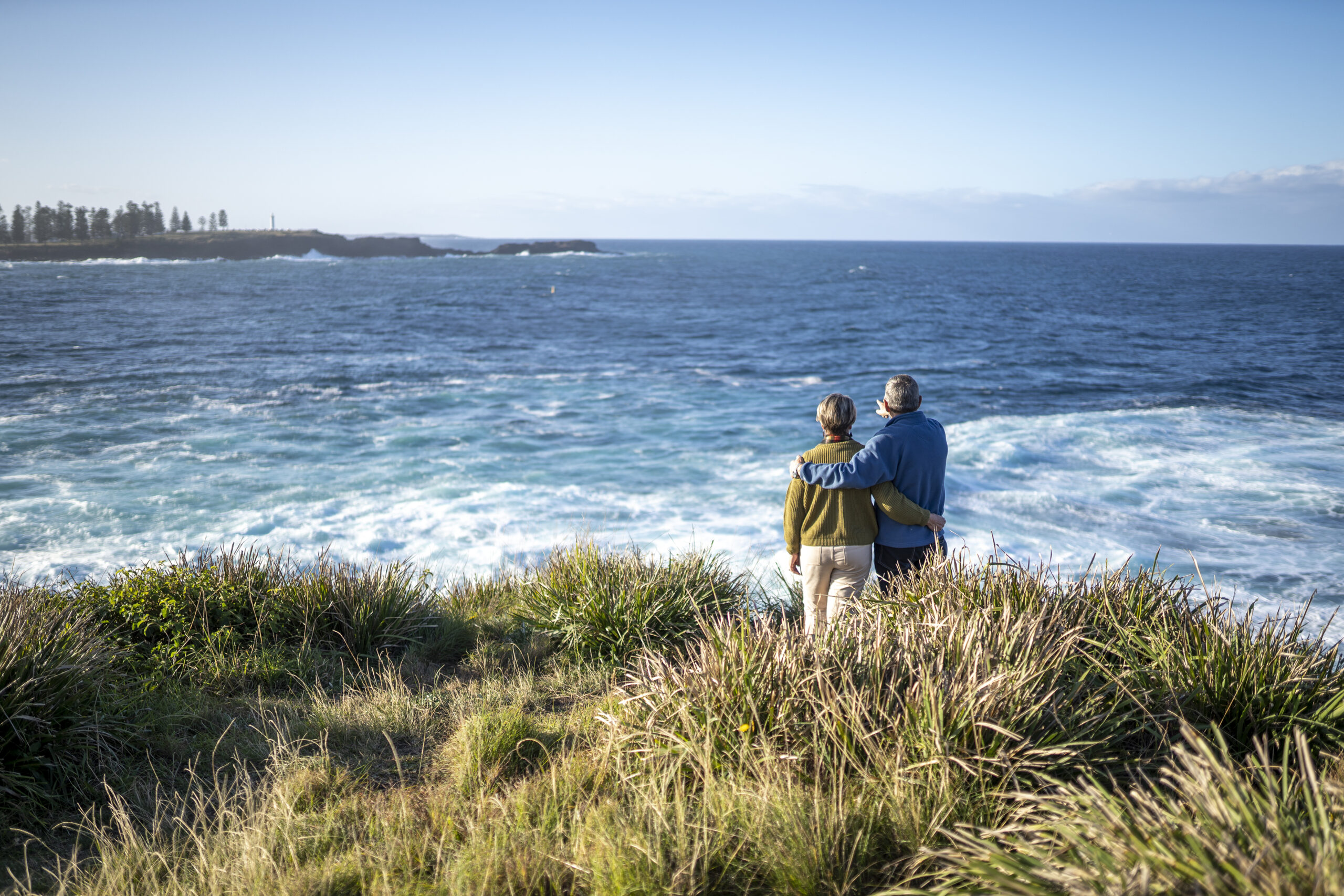 10 winter wonders of the Kiama world
The typical holiday on NSW's South Coast conjures up sand castles, swimming at the beach, soaking up the sun and ice-creams melting faster than you can lick them. And yes, Kiama may have plenty of appeal in the warmer months, but savvy travellers in 2023 are fast tuning in to its secret – the one that says that winter is actually a great time to unwind, connect with nature, away from the crowds.
That's right – there are plenty of holiday activities in and around Kiama during winter. And would you believe, they all start with W? (We were amazed too.) Check them out to help create your perfect winter getaway on the NSW South Coast.
1. WAVES 
Wait, what? Surely it's not the time of year for swimming? And that's true (although, feel free to join the brave souls who swim at the rockpool near Kiama Harbour Cabins at 10am every Sunday morning during winter). But winter IS the best time of year to catch one of the Kiama's world-renowned waves. Not only are the waves more consistent for surfers, but your "board meetings" won't be as crowded – and the gnarly nature of the coastline provides a sheltered surfing spot even when the swell is wild. The best place to learn is just minutes from Seven Mile Beach Holiday Park.
2. WALKS
The cooler weather makes walking Kiama's many tracks a delight – whether you're exploring the Illawarra Escarpment's exposed natural beauty, Minnamurra's Rainforest's ancient cedar remnants via the accessible track or taking in the stunning ocean views along the Kiama Coast Walk. This latter walk is the jewel in Kiama's crown – spanning 20km from Minnamurra River in the north to Gerringong in the south. The Kiama Coast Walk also runs directly past Kiama Harbour Cabins, Surf Beach Holiday Park, Kendalls on the Beach and ends at Werri Beach Holiday Park, making it super simple to step out and take in a section at your leisure. Wear something warm!
3. WATERFALLS
The foothills near Jamberoo and atop the Jamberoo Mountain are home to some spectacular waterfalls. And winter's wetter months are naturally the best time to witness these wonderful walls of water in their full cascading glory. Minnamurra Falls and Carrington Falls two local highlights within half an hour's easy drive of your Kiama accommodation. Or you can make a real splash by adding in Belmore and Fitzroy Falls with a round trip via Kangaroo Valley.
4. WHOOSH
Arguably Kiama's most famous residents, the Kiama Blowhole and Little Blowhole are often more agreeable during the winter months due to the prevailing swells required to make them perform their magic. Kiama's main blowhole is located right alongside the iconic lighthouse and is one of NSW's popular holiday stops, with heights recorded that match an 8-storey building! Meanwhile, it's little sibling can be found about 2km south and easily accessed by car or via the Kiama Coast Walk, just 10 minutes 'walk from Kendalls Beach. The Little Blowhole tends to put on a show more consistently and allows you to get right up close and personal. Splashtacular selfie, anyone?
5. WINERIES
What could be nicer than spending a winter afternoon getting cosy with a winning wine or two, whiling away the hours amongst the lush green hills and matching each drop with delicious local produce? That's all on offer on your winter holiday doorstep, with a wealth of wineries to choose from including the closest one, Crooked River – just a 3-minute drive inland from your Gerringong or Gerroa accommodation and home to many events including the annual winter wine festival.
6. WHALE WATCHING
It just so happens that May to August is an optimal time to witness the majestic Southern Right whales as they making their way north to breeding grounds. This whale highway is within easy viewing distance from the coast – in particular the headlands near Kiama Coast Cabins and Surf Beach Holiday Park. There are also purpose-built whale watching platforms on Minnamurra and Gerringong headlands. Don't forget your camera!
7. WELLNESS
When the winter blues come a-knocking, Kiama is the perfect destination to wave buh-bye to your worries and rejuvenate your body and mind. From day spas and yoga classes to floatation therapy and winter workshops – your wellbeing is a personal thing to be nourished in unique ways. But Kiama's mix of experiences and venues means that what makes your heart happy is never far away when you stay here. Ask for unwinding and unplugging ideas at your accommodation location or visit the Kiama Visitor Centre for inspired activities to rekindle your soul.
8. WARMTH
When you stay in Kiama during winter, you get the chance to warm your heart – and your tummy – with a unique range of award-winning local cuisine. Whether it's a particular flavour from around the world, contemporary Australian fine-dining, fresh seafood or a casual coastal vibe that includes top bistros and renowned gourmet burgers and vegan-friendly fare, your tastebuds will definitely wear the warmest of smiles throughout your stay. Or for the ultimate casual coastal dining experience, you can enjoy campfire-style cooking at your seaside holiday park accommodation – the perfect winter warmer!
9. WIDE SPACES
This one simply cannot be underestimated. There's really nothing quite like having an entire beach all to yourself as you take a morning walk. That's the wonder of winter – where it can sometimes feel like it's just you and nature. Enjoying Kiama's natural beauty without the crowds is a special experience, and when the sun goes down, you can make the most of the longer nights by marvelling at the big wide night skies – free from Sydney's city lights and ready to help you wish upon that shooting star!
10. WOW FACTOR!
Some things simply cannot be categorised by one thing alone. The stunning sunrises that fire up over the ocean. The winter festivals like Gerringong's coastal festival or Kiama's Winter Festival with music, food as well as an authentic iceskating rink. The way that rainy days transform the landscape in a new and life-giving way. The warm welcome from locals, the warm beverages on offer at the many cafes, and the warmth of the afternoon sun when you find the perfect spot to read that book. Yet more reasons why Kiama is winter's best kept secret and why planning a Kiama winter escape is a smart move. Start planning your stay with us!
Image credit: Peter Izzard Photography
Receive latest news, information and promotions
Escape to Kiama Coast Holiday Parks