Kiama Coast… Where the Mountains meet the Sea
Imagine the perfect holiday with a spectacular beach on your doorstep and restaurants and shops just a stroll away. Falling asleep to the sound of the waves and waking to a day full of new adventures. Wandering through the pristine Minnamurra Rainforest or marvelling at the power of nature at Kiama's famous Blowhole.Visiting the lovely seaside town of Gerringong only a few minutes drive away or ramping up the excitement at the Action Park after visiting historic Jamberoo.
Picture yourself browsing through historic terrace shops,exercising at a fully equipped leisure centre, visiting a gallery, discovering your family tree at the family history centre or just watching the passing parade as you enjoy a leisurely lunch at a café of your choice.
Stop imagining. You can get all this, and much more, on the magnificent Kiama Coast
Aboriginal Art & Culture Studio – Boolarng Nangamai
Discover Aboriginal artists at work painting, weaving, drawing, dancing, didgeridoo playing, storytelling & more. A bush foods and medicine garden is on site to give visitors a firsthand experience.
5/9 Bergin Street, Gerringong.

Beaches
The Kiama coastline stretches over 33km from Minnamurra in the north to Gerroa in the south and includes 9 beaches. 7 of the 9 beaches are patrolled so make sure you swim between the red and yellow flags and stay safe.
Mystics Beach at Minnamurra (vehicle access from Killalea State Park)
Jones' Beach at Kiama Downs
Bombo Beach at Kiama
Black Beach at Kiama Harbour
Surf Beach at Kiama
Kendalls Beach at Kiama
Easts Beach at Kiama
Werri Beach at Gerringong
Seven Mile Beach at Gerroa
More information on the 9 beaches in our area can be found by visiting Council's website
Barren Grounds Nature Reserve
Barren Grounds is loved by walkers & birdwatchers. It offers a range of walks including a 2.6km return walk to the Illawarra Lookout, the 8km 'Griffith's Trail' circular walk or for those adventurous types the 'Kangaroo Ridge Walk' offers fantastic views on its 19km return walk.
Access from Jamberoo Mountain Road (10min west of Jamberoo).
Bike Riding
If you're enthusiastic for a bike ride while you're on holidays, then we have paths and safe roads to suit all riders. You can travel from Gerroa in the south right through to Minnamurra and further afield in the north. Be sure to ask the staff at reception for a local map.
Bombo Headland
Years of blue metal quarrying from the 1880's and 1900's has left a moonscape of basalt walls & columns – great for exploring and photographs.
North Bombo Beach, access off Hutchinson Street or via Cliff Drive, Kiama Downs.
Bonaira Native Gardens
A 30min walk (or ride) through an established rainforest which includes a monument dedicated to the local Aboriginal tribe, the Wodi Wodi people.
Access via Bonaira or Reid Street.
Canoe/Kayak Hire
Available from Seven Mile Beach Holiday Park.
Crooked River Road, Gerroa. 02 4234 1340
Carrington Falls
A spectacular 50m waterfall, with a range of walking tracks & lookouts. You will also find a natural swimming hole & picnic spot nearby at Nellies Glen.
Access from Jamberoo Mountain Road, 24km west of Jamberoo. Follow Tourist Drive 9 from Kiama.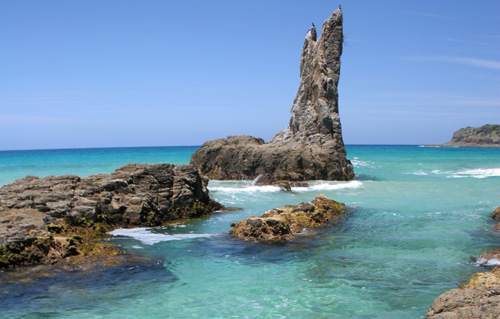 Cathedral Rocks
Years of erosion has sculptured these distinctive volcanic rock formations. Great location for a holiday snap of the view and stunning rocky outcrop.
End of Jones' Beach, access from Cliff Drive, Kiama Downs.
Crooked River Winery
Offering a range of cellar door tastings 7 days a week from 11am-4.30pm. The Crooked River Restaurant is open on Friday evening, Saturday lunch and evening, and Sunday lunch with fabulous mountain and ocean views.
Willow Vale Road, Gerringong. 02 4234 0975
Eating Out
It doesn't matter which Kiama Coast Holiday Park you are staying at, there is a range of takeaways, cafes, clubs and restaurant's with a variety of cuisines.
Whether you are after fish and chips, seafood, Italian, Mexican, Chinese, Thai or modern Australian – there is something in the area to suit everyone's taste buds.
Ask the staff at reception for their recommendation and advice on places to eat out.
Family History Centre
One of the most comprehensive Genealogical Centres in Australia, which encourages & advises anyone interested in family history research.
7 Railway Parade, Kiama. 02 4233 1122
Fishing
Fancy catching your own dinner? Or bringing your boat on holidays? There are lots of great locations where you can enjoy a spot of fishing:
- Minnamurra River (x3)
- Kiama Harbour
- Gerringong Boat Harbour
- Little Beach Gerroa
Crooked River, Gerroa
Minnamurra River
Kiama Harbour
Werri Beach
Seven Mile Beach
Gerringong Heritage Centre
Exhibits include the historic flight by Kingsford Smith from Seven Mile Beach, a history of dairying & a large display of models of historic buildings in the local area.
10 Blackwood Street, Gerringong (behind the Scout Hall).
02 4234 1876
Golf Courses
There are 3 golf courses for you to play on when you visit the area:
Jamberoo Golf Course – 18 holes nestled in the lush green Jamberoo Valley. Cart hire available.02 4236 0404
Gerringong Golf Course – 18 hole course located between Gerringong and Gerroa. Cart hire available. 02 4234 3333
Kiama Golf Course – 18 hole course located in Minnamurra (just north of Kiama). Cart hire is available and there is a licensed Club on site offering food and beverages. 02 4237 7300
HARS Museum
Historic Aircraft Restoration Society (HARS) Museum features a large display of aviation history including the world famous 'Connie' Lockhead Super Constellation, Neptune Bombers, a Black Cat Catalina & more.
Illawarra Regional Airport, Albion Park. 02 4257 4333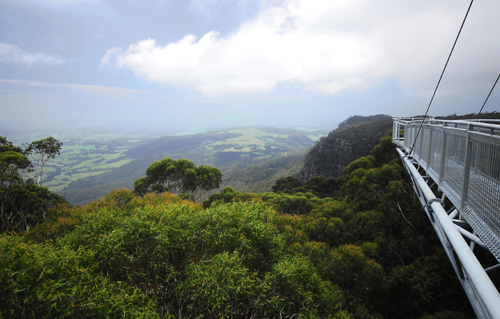 Illawarra Fly Treetop Walk
A 1500m walk through the native rainforest, the steel walkway features two gently swaying cantilevered arms & a central tower that rises nearly 50m from the forest floor. The stunning views take in everything from the rainforest floor, through to the canopy and out to the Pacific Ocean.
Knights Hill Rd, off Jamberoo Mountain Road. 1300 362 881
Illawarra Light Railway
Enjoy a day out at the Illawarra Light Railway Museum – you can take the kids on a miniature train ride or experience a restored carriage being pulled by the steam of a diesel locomotive. The museum is open on Tuesdays, Thursdays and Saturdays 9.30am – 3.30pm.
Steam train rides operate on the second Sunday of each month from 11am – 4pm.
Tongarra Road, Albion Park. 02 4256 4627
Jamberoo Action Park
One of the largest water-based theme parks in NSW offering a great day of family fun. Rides include the Funnel Web, Banjo's Billabong, the Taipan, Outback Bay & much more! The famous toboggans are still there too! Open from September through to the end of April. Call for open times & days.
Jamberoo Road, Jamberoo. 02 4236 0114
Jerrara Arboretum & Wetlands
The Jerrara Dam is a picturesque reserve and picnic area on the banks of a 9 hectare dam. You will be able to see a collection of local native plant species, some of which are endangered.
Mt Brandon Road, off Jerrara Road, Jamberoo.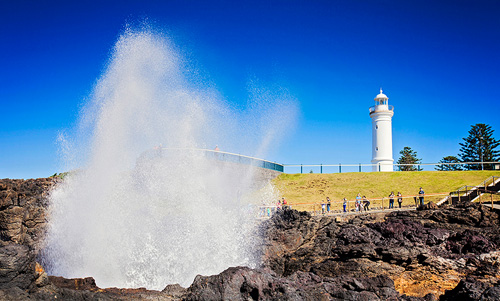 Kiama Blowhole
One of our most famous local attractions. The Kiama Blowhole is an unusual rock formation spouting spectacular plumes of water high into the air. It is located right next to Kiama Lighthouse and Kiama Harbour Cabins. It is most impressive when the seas run from the south-east, tides do not have an impact on the performance of the Blowhole.
Blowhole Point Road, Kiama.
Kiama Coast Walk
Hugging our fabulous coastline, the Kiama Coast Walk is a 22km walk suitable for most levels of fitness. It is divided into 3 sections, meaning you can choose to do the whole walk or parts of it:
Minnamurra River to Kiama Blowhole (8.4km, 3 hours)
Blowhole Point to Loves Bay (5km, 1.5 hours)
Loves Bay to Gerringong (6km, 2 hours)
Don't forget to take water and your phone; wear suitable footwear and a hat/sunscreen; be prepared in case of wet weather and be careful along headlands.
Kiama Leisure Centre
Recently refurbished with two heated indoor pools, gym & aerobic area, school holiday activities, kinder gym, child minding, spa & sauna.
Havilah Place, Kiama. 02 4232 1877
Kiama Library
Browse books, magazines and newspapers at Kiama Library. With a kids section including games, jigsaws and free WiFi.
Railway Parade, Kiama. 02 4233 1133
Killalea State Park
Offers two surfing beaches – "The Farm" & "Mystics" & declared a National Surfing Reserve in 2009. The Park features 250 hectares of coastal reserve with walks, picnic areas, BBQ's, camping facilities & kiosk.
Killalea Drive, Shell Cove (follow the signs). 02 4237 8589
Little Blowhole
Similar to its "Big Sister", the Little Blowhole spouts vigorous sprays of water emanating from a natural rock cove. It works best when seas from the north/north-east.
Off Tingira Crescent, Kiama
Lookouts
Illawarra Lookout (Off Jamberoo Mountain Road) provides fantastic views of Jamberoo right out to the Pacific Ocean. It is a great location to watch the sun rise.
Saddleback Mountain Lookout (Jack Cleary Memorial Drive, off Saddleback Mountain Road, Kiama) is one of the more popular lookouts in the area. On a clear day you can see from Cronulla in the north down to Milton in the south. A wonderful place to take photographs.
Mt Pleasant Lookout (on the Kiama Bends heading south) offers superb views over Gerringong and Gerroa and the rural surrounds. Sit and enjoy a picnic or use the information bay to plan your visit to the local wineries.
Kingsford Smith Memorial Lookout (Corner Headland Drive & Crooked River Road, Gerroa) is where Sir Charles Kingsford Smith made his historic record- breaking flight to New Zealand on January 11th 1933.
Markets
Kiama Seaside Markets – 3rd Sunday of the month
Kiama Produce Markets – 4th Saturday of the month
Kiama Farmers Market – 3-6pm every Wednesday
Jamberoo Art & Craft Markets – last Sunday of the month
Gerringong Village Markets – 3rd Saturday of the month
Art in Hindmarsh Park – 2nd Sunday of the month
Minnamurra Rainforest
Experience the natural sounds and beauties of the rainforest via the wheelchair accessible elevated Loop Walk (1.6km) or wander up to the Falls Walk (2.6km) and see stunning views down to the rainforest canopy and waterfalls. With a visitor centre, retail shop, cafe and picnic/BBQ area on site you are set for a wonderful day.
Minnamurra Falls Rd, Jamberoo. 02 4236 0469
Pilot's Cottage Museum
Built in 1881 and provides history on the area's shipping, cedar industry & basalt quarries plus much more. Open Friday, Saturday, Sunday and Monday from 11am-3pm.
Blowhole Point Road, Kiama.
Rock pools
There are 4 rock pools situated along the Kiama coastline – 2 in Kiama and 2 in Gerringong. The pools are checked regularly for cleanliness and hazards. As the pools are tidal they rely on the waves to fill them:
The Continental (or Olympic) Pool Kiama is situated at the north end of Black Beach Reserve.
Blowhole Point Rock Pool is situated on the north side of Blowhole Point and across the road from Kiama Harbour Cabins.
Ourie (Werri) Pool Gerringong is located at the southern end of Werri Beach with access via Pacific Avenue or Geering Street.
Boat Harbour Pool (Gerringong) is located around the headland north of Beach Harbour with access via a walkway starting from the Boat Harbour Reserve.
For more information about the rock pools visit Council's website
Spring Creek Bird Hide & Wetlands
A great opportunity to see waterbirds up close. Features an observation hide between the lagoon & freshwater lake.
Park at Glenbrook Drive, off Dido Street, Kiama & follow the signs.
Terrace Houses & Sandstone Walk Shops
Built in 1886 to house local quarrymen, they now provide a delightful shopping experience with giftware, clothing, crafts & eateries.
Collins Street & Collins Lane, Kiama.
Whale Watching
Being on the coast there are many vantage points to watch these beautiful creatures as they head north to warmer waters and return with their calves.
Late May to July – whales head north
September to November – whales return south with their calves
Please see the staff at reception regarding information and tickets for Whale Watch cruises.
Something for everyone ...plus fishing
The Kiama Coast is set on one of Australia's most beautiful stretches of coastline and is only one and a half hours south of Sydney – just a slight detour off Highway 1. The region is a rich mosaic of historic towns, dairy pastures, rugged sea cliffs and lush green hills that literally meet the sea. There are plenty of activities for visitors of all ages, from alfresco dining at many of the exquisite restaurants, cafes and wineries to some indulgent retail therapy along the village high streets and quaint terrace shops. Discover the region's various attractions including the Illawarra Fly Treetop Walk, Kiama's famous "Blowhole" and the thrills of Jamberoo action Park. There's a wide choice of water activities at one of the many beaches, rock pools or rivers, or the chance to simply relax and unwind. And where better to stay than at one of the five award winning Kiama Coast Holiday Parks, situated in Kiama, Gerringong and Gerroa. Fishing enthusiasts are spoilt, with the choice of estuary, rock and beach fishing, as well as local fishing charters that offer deep sea, light tackle, big game and reef fishing.
Kiama Coast Holiday Parks offer some of the best cabins in Australia, with spacious living areas, fully self-contained kitchens, reverse cycle air conditioning, Foxtel, gas log fires, spas, free in-house movies and private verandahs equipped with their own BBQ. Standard cabins, Eco-Safari tents and Surf Shaks are also available, as well as a range of ensuited, powered and unpowered sites for the avid caravanners and campers, together with clean modern amenities and facilities and the friendliest of staff. If you've ever imagined the perfect seaside holiday with the ocean on your doorstep, an abundance of fish to catch, eateries and shops just a short stroll away, discovery and adventure available to entertain the entire family within just a few minutes' drive, or the perfect place to just relax, then stop imagining and do yourself a favour and enjoy the wonders of the majestic Kiama Coast.