Holidays on NSW's South Coast are often dominated by water – after all, it's in the name. And the 'coast with the most' must surely be Kiama's. Why? Because around these parts, water doesn't just roll in on waves or fall from clouds – it also shoots spectacularly up into the air, ripples across swimming holes, tumbles down rocks and even spirals down giant thrill rides. So, whether it's school holiday activities or getaway attractions, Kiama definitely makes a splash!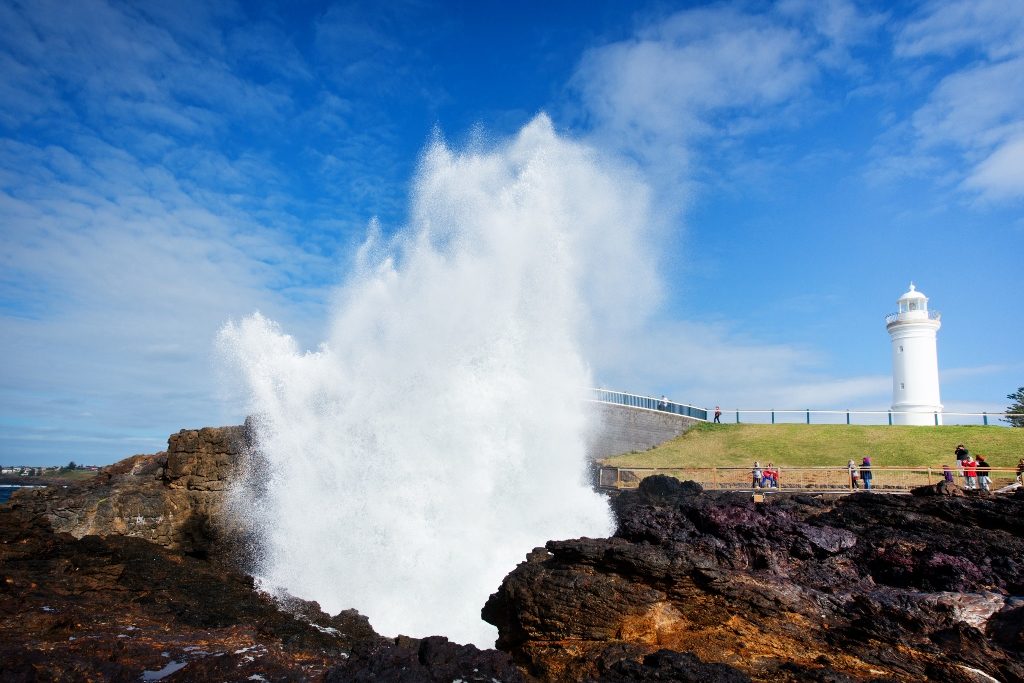 Dive into your accommodation
When you stay in Kiama, you're never far from the ocean – with all five of our idyllically located holiday parks within a skimming stone's throw of the shoreline. Once more, the clue is in the name, as every one of our venues clearly describes its unique coastal location. See below for each park's specific highlights and why they make the perfect home base after an action-packed day on, in or under the water!
Highlights
Kiama Harbour Cabins
As the name suggests, you have the harbour just metres away – ideal for fishing off the wharf, boating or heading out on the stand-up paddle board. Check out Land's Edge new adventure programme: just a short walk down to Black Beach Reserve you can kayak, SUP or snorkel with professional guides who will take you to remote inlets and hidden coves from $55 AUD per session.
The popular Blowhole Point rock pool is located just below the cabins – a spectacular spot any time of day for a refreshing dip. Across the harbour, you'll also find the 50m Continental Pool.
The famous whoosh-tastic Kiama Blowhole is again barely a minute's walk from your accommodation, as is the Visitor Information Centre to plan other water activities and holiday fun.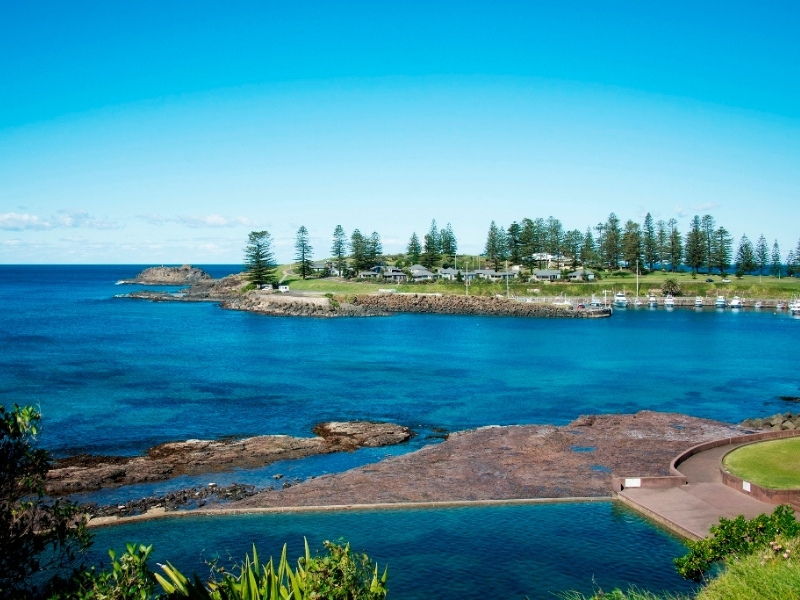 Surf Beach Holiday Park
The most popular beach in the region, Surf Beach is just two minutes' walk from your cabin door and patrolled all year round.
If you feel like walking four minutes instead of two, neighbouring Kendalls Beach offers another fun option.
Had enough of the salty waves? No problem – enjoy the resort-style swimming pool and splash pad on site, with sunshade cover to protect the little ones while they splash.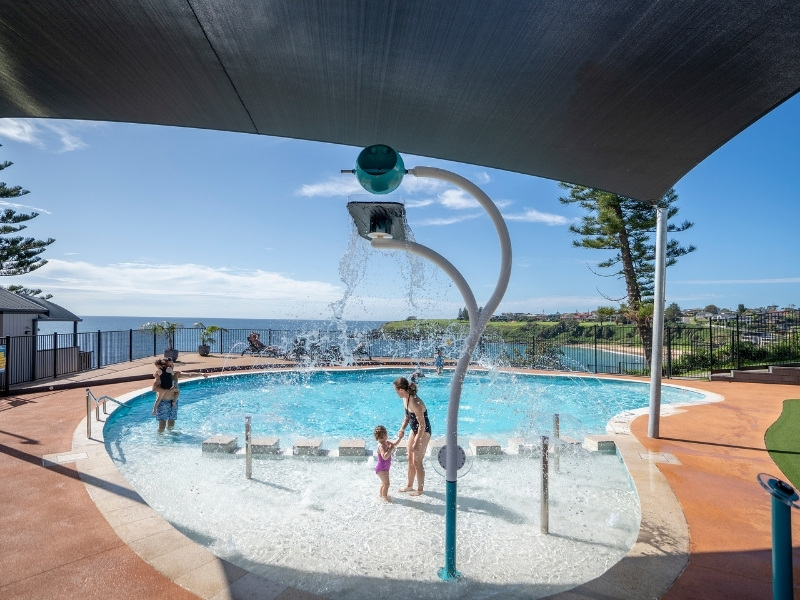 Kendalls on the Beach Holiday Park
No prizes for guessing which beach Kendalls is on. This long sandy stretch offers many park dwellers absolute front row seats. Literally from your steps to the sea in less than thirty seconds.
Feel like walking four minutes instead of one? Well, Surf Beach is just around the corner (easy paved path) and offers a popular alternative and a chance to get out on your surfboard.
Kendalls is on the Kiama Coast Walk. Follow it up the steps at the southern end and just a kilometre away around the headland you'll find the crowd-pleasing Little Blowhole.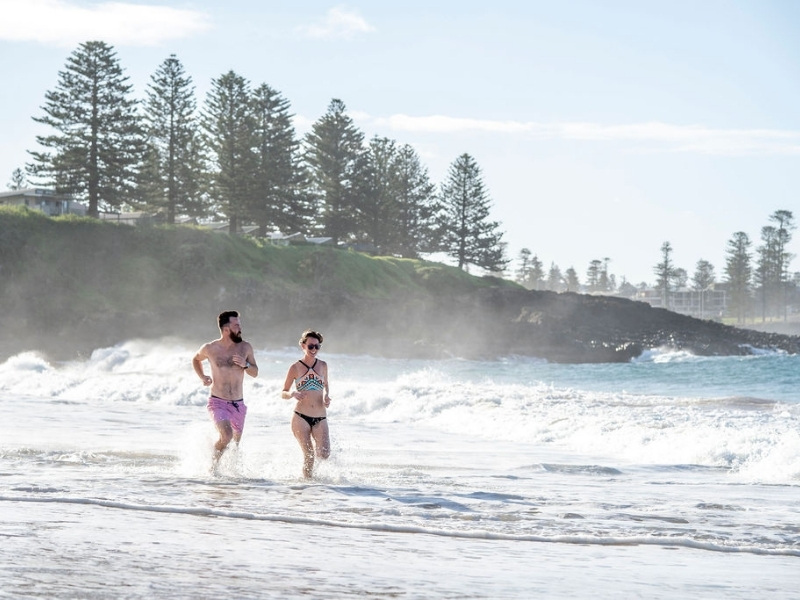 Werri Beach Holiday Park
Just across the road, the southern end of Werri Beach is a firm favourite with surfers when the waves are breaking.
Of course, you don't need to leave the park to enjoy a splash in the on-site pool.
Salt-water swimming is taken care of too, with South Werri Beach rock pool one of the best places to view the sunrise. Oh and there's another gem sitting next to it, a smaller rock pool.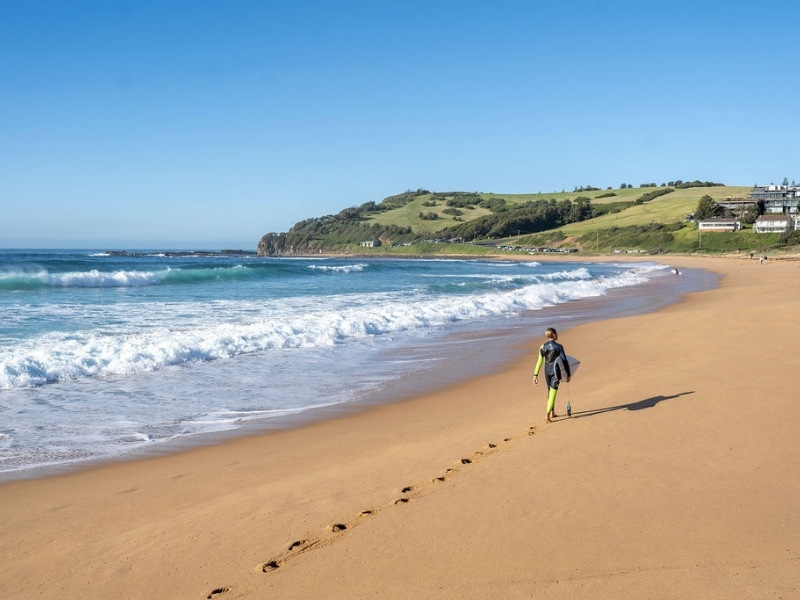 Seven Mile Beach Holiday Park
Set amongst nature away from the main townships, this is surf school central – an easy walk to the ideal flat beach for all your 'board meetings'.
Paddlers and toddlers will also love being alongside Crooked River – right where it flows into the sea.
Had enough of splashing in the river or the ocean? Then jump into one of the two on-site pools as you share stories of your day in the sun.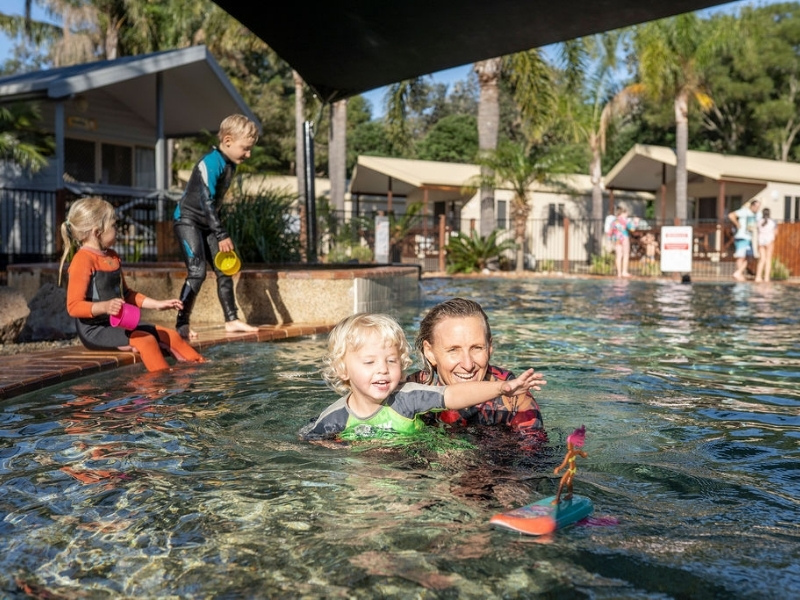 Surfing and water sports
Kiama's coastline has always been a favourite for surfers – with popular breaks at Mystics, Bombo and Werri Beach. The region regularly plays host to a range of world-class tour events while the surf camps at Seven Mile Beach are a great place to learn. With two to choose from: Gerroa Surf School and Gerringong Surf School
Meanwhile, with more than a dozen golden beaches and four ocean baths, there are plenty of places to swim. If kayaking or SUP boarding are more your jam, SUP Shellharbour and Land's Edge provide options to get out on the water. Or simply grab a snorkel or fishing rod and ask about the best local spots.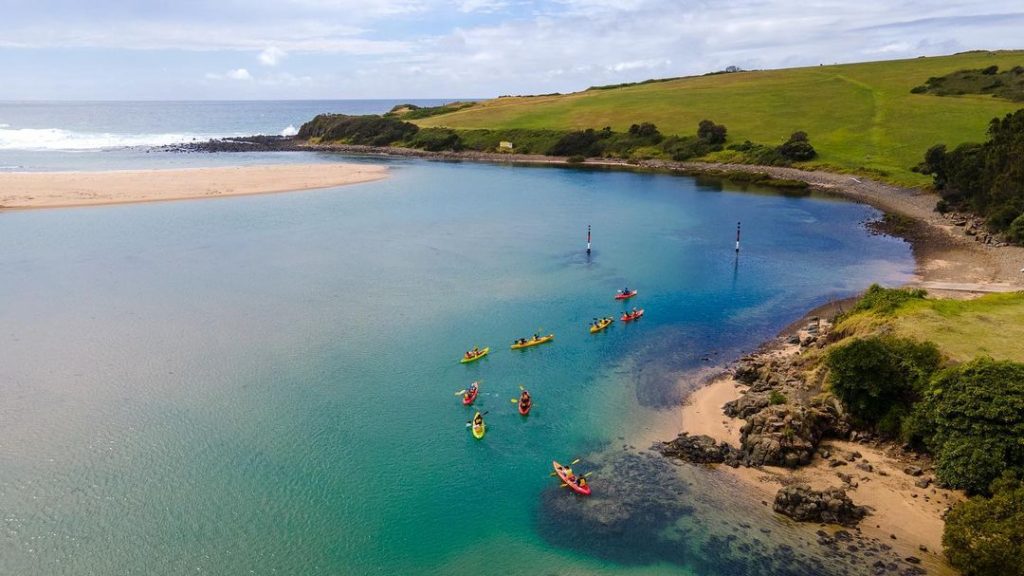 Out and about
A great way to take in everything from the blowholes and rock pools to golden beaches and stunning views is by walking a section of the Kiama Coast Walk – stretching 20km from Minnamurra River (a great swimming spot) to Gerringong. Looking for something more dramatic? Carrington or Minnamurra Falls are spectacular spots to witness gravity at its finest – especially spactacular after a rainfall.
Big and little kids will love Jamberoo Action Park, the South Coast's premier water park – loaded with world class water slides, wave pools, lazy rivers, and thrill rides from October to April, while Kiama Leisure Centre offers a separate toddlers pool and inflatable pool toy fun during the holidays all year round.
Rain or shine, we're here to help you and your family make a splash in Kiama – click here to start planning your stay.